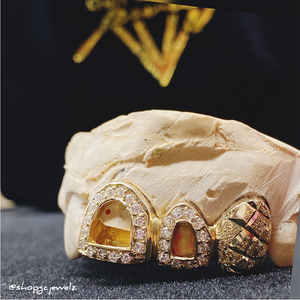 3z Company
Order Instructions
When placing your order please inform us of any customization or upgrade request such as perm cuts/deep cuts which are added complimentary. We will contact you to discuss the pricing and confirm your order. Please note that pricing is subject to change due to the volatility of the spot price of gold and all internet pricing is an estimate and not final. To Place an order please Call 281.724.5161
How It Works
In order to finalize your order each customer will need a dental impression from our mold technicians on site. This is an additional $25 non-refundable fee due upon arrival/checkout.
All Custom Grillz sales are final due to customization. 
100% Authentic Fit!
We have it in either .925,10KT, 14KT, 18KT Gold.
Once we have completed your finished dental impression, We will custom make your custom grill and send you back the finished product (along with the dental impressions, in case you'd like to order again in the future), also a FREE cleaning cloth!

Check out MORE VIDEOS and PICTURES on our INSTAGRAM and FACEBOOK Page
@shopgcjewelz
100% SATISFACTION GUARANTEED
24/7 Customer Support