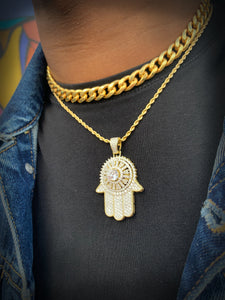 Combo Hemsa & Cuban
The Hamsa Combo With the Short Cuban

This is the perfect piece for everyone no matter your religion we all need the hand of God in our lives.  The Hamsa can be worn with everything from your Sunday best or while your riding in your V12 with the racks in the middle. We truly love the versatility of this combo. Add to the cart today
The is a pre-built set and comes with either a  18"& 20" or 20"& 22" Cuban & Rope. 
Pendant Specifications
Length: 40mm
Width:  32mm
Weight: 11 grams
Content: 925 Sterling Silver Metal
Grade AAA high quality
Stone Specifications
14K Yellow Gold Plated
Chain Specifications
Cuban Link 
Width: 8MM
Weight varies up to 120 grams
18K Gold Plated
Faultless cubic zirconia 
Precision Machine Set stones
High Grade CZ
Considering other options true diamonds, solid gold etc. Call today 832-724-5161! We are here to help.