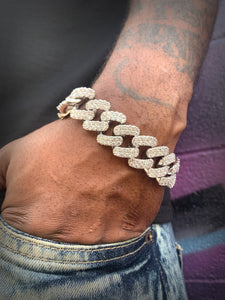 Buss Down Prong Link Bracelet (White Gold)
I know you have your necklace, watch, ring, but don't forget to put your wrist on fleek. Every diamond 💎 is set for pure perfection. Get your wrist game up order today!

Bracelet Specifications
Width: 19mm
Length: 8.75"
Weight: 5 grams
Stone Specifications
Considering other options true diamonds, solid gold etc. Call today 832-724-5161! We are here to help.
Materials