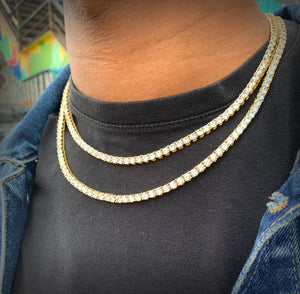 Double Iced-Out Gold Tennis Chain (4mm)
You know the saying two is better than one does not always apply but for this it's a MUST for this unique pair. Wear your ice in pairs at night "On Chill", at your favorite sports bar, or your go to spot for that Friday night hype!
Chain Specifications
Length: 18",20" & 22"
Weight: Weight varies up to 5 grams
18" – 28 Grams
20" – 30 Grams
22" – 33 Grams
24" – 34 Grams
Stone Specifications
Considering other options true diamonds, solid gold etc. Call today 832-724-5161! We are here to help.
Materials