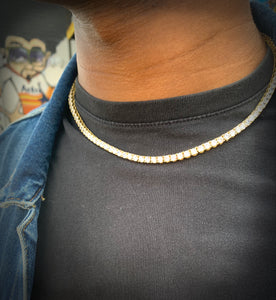 Iced-Out Yellow Gold Tennis Chain (4mm)
Considered the most versatile of all diamond cut jewelry. This chain can be seen worn by the most influential hip hop artists on down to the corporate exec. Highly-desired with captivating features makes this chain a must have for your collection. Wear it by itself or couple it with other chains, this definitely is a show stopper.
Chain Specifications
Length: 18",20" & 22"
Weight: Weight varies up to 5 grams
18" – 28 Grams
20" – 30 Grams
22" – 33 Grams
Stone Specifications
Considering other options true diamonds, solid gold etc. Call today 832-724-5161! We are here to help.
Materials